National Council Canadian Muslims released a statement on May 4th 2023: Zahid Mosque Security funding. The following is a partial rendering.
Alhamdullilah, two weeks ago we joined the Islamic Society of Markham and called on the Federal and Provincial government to provide money for mosque security. Two weeks later they have.
The $25 million increase in funding is a necessary step…. We also appreciate that the commitment expands the list of eligible community organizations that can apply… To that effect, the Anti-Hate Security and Prevention Grant is a big step in the right direction.
Kitchener woman fears for her safety after alleged hate-motivated incident
CTV Kitcher Published April 12, 2302:
The Waterloo Regional Police Service is investigating the alleged incident, including the possible motivations behind it.

CTV News Kitchener spoke to a woman who said she and her mother were the victims in this incident. The woman asked not to be publicly identified as she fears for her safety.

…he rolls down his, then we just see him pull out his phone and point it at us and we're like, okay that's weird. And suddenly, in the other hand, he pulls up a gun and points it at us." He was videotaping us – so he seemed prepared to be doing something," she said.
Police said their general investigations and equity, diversity and inclusion units are working together to investigate the incident.

According to police, the suspect is described as a white man, around 20-years-old and with a thin build. He was wearing a large dark hoodie with a face mask, and was driving a dark-coloured four-door sedan.

The woman said they weren't near the masjid when the incident happened but feels the incident was hate-motivated.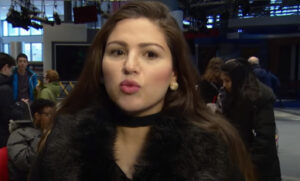 Sabreena Siddique Professional Hate Crime researcher
Just because this one particular story is not real it doesn't mean that the other stories are not real. So, let's not forget that we need to still work on anti-islamophobia and trying to combat anti-Islam hate.

I am very afraid of the backlash she will receive, and the community will receive further because people are going to be well, she lied..