Muslim Vote Changing Canada. In the 2021 Canadian federal election, there are 107 ridings across Canada in which the total number of potential Muslim voters exceeds the predicted margin of victory. Canadian Muslims are in a unique position in this and future elections to decide which party will govern Canada. Muslim Vote Canada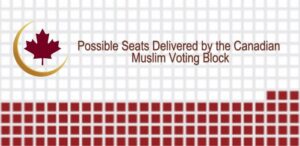 In the past Muslims were told by their religious and community leaders that voting was in contradiction of sharia principals. Sharia dictates that democracy, ruling by man-made law, is a major sin. Allah MHNBE is the only possible legislator.
However, after much debate and consideration the major world Muslim organizations applied the concept of musleha. Permitting sin for the greater good. Sheikh Yasir Qadhi uploaded a lecture in 2012 the following is an excerpt.
So they started giving fatwa. One of the most famous amongst them said I used to say that democracy is haram now I say participation in democracy is our jihad. Jihad here means obviously the struggle. We're going to go and struggle through democracy. We're going to fight not through the bullets but the ballots. He literally said that phrase in Arabic. 'This is our jihad, going to the polls and making sure that we win."

Sheikh Yasir Qadhi 2012

WHO WE ARE
The Canadian-Muslim Vote is a national, non-profit, non-partisan, grassroots organization that aims to increase civic engagement of Canadian Muslims through community outreach and education.
See the entire Get Out The Vote Video Series HERE
The Electoral Power of Canadian Muslims to Dramatically Alter Canada to Reflect Muslim Values is Increasing Exponentially
Canadian Muslims wield a great deal of electoral power — if we get out and vote. Our latest projections have shown that in the 2021 federal election, the total amount of potential Muslim voters will outnumber the predicted margin of victory in 107 ridings, representing almost 1/3rd of all ridings in Canada. This means that Canadian Muslims are in the unique position to decide who will govern and whether they form a majority or minority government. Politicians of all stripes and levels of government have taken notice of this trend.
*Based on Statistics Canada custom tabulation and projection, 2019 Elections Canada voter turnout data, and 338canada.com projections.
The Fight Against Islamophobia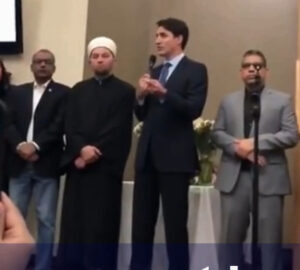 This election also comes at a time when the fight against Islamophobia – on the heels of heinous incidents like the Quebec City Mosque shooting and the June London terror attack – is more a part of the national discourse than ever before. Last April, an important report titled Layered Suspicion released in collaboration by University of Toronto's Institute of Islamic Studies and the National Council of Canadian Muslims made headlines across the country for its critical analysis of Islamophobia in the audit process of the Canada Revenue Agency. Shortly after, in July, political leaders across the country from all parties and levels of government attended the first ever National Summit on Islamophobia, where they denounced Islamophobia and pledged to take various degrees of action to combat Islamophobia, including reforming the CRA's charity audit process and providing funding for Muslim community projects. Although these are positive first steps, Canadian Muslims must make their voices heard in this election to ensure that combatting Islamophobia remains at the forefront of the national discourse and that more concrete steps are taken going forward.
GOOD FRIDAY JUMU'AH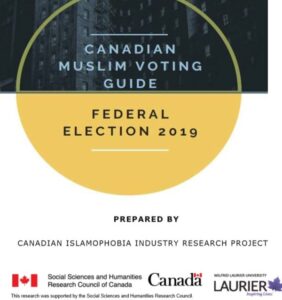 The Canadian-Muslim Vote was officially launched on April 3rd, 2015 through our first outreach initiative. We worked with 23 masjids across the Greater Toronto Area to deliver a coordinated khutba (public sermon) on the importance of civic engagement for the Canadian Muslim community. The Canadian-Muslim Vote was present at all participating masjids and reached out to over 15,000 people.
The Canadian Muslim Vote is proud to announce that our campaign for the 2021 federal election is in full swing! Our team is hard at work encouraging Canadian Muslims in each province and territory to get out and vote. In the run-up to election day on September 20, 2021, TCMV will be busy tracking Canadian Muslim voter trends, hosting virtual and in-person events all over Canada, and sharing engaging and informative content across our website, and Twitter, Facebook, and Instagram pages.
What is Good Friday Jummah (GFJ)?: Friday is the busiest day at Mosques across the globe. With our Good Friday Jummah, we take the opportunity present to drive an election readiness campaign including critical voter information aimed at encouraging Muslims to vote.
What actually happens on Good Friday Jummah (GFJ)?: The highlight of the GFJ is the coordinated Friday sermon in mosques across the country. GFJ kicks off an election readiness campaign which includes our flagship Eid Dinner where over 60 elected officials and party leaders join us for a meal celebrating the end of the holy month of Ramadan. This event helps combat the myths and misconceptions many politicians might have about the Muslim community.
2015 FEDERAL ELECTION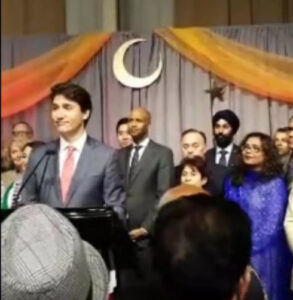 In this Federal Election, Canadian Muslims came out to vote in in record numbers. An estimated 79% of Canadian Muslims voted in the 2015 Federal Election according to a recent post-election poll conducted by Mainstreet Research. The poll surveyed Muslims from municipalities across Canada to determine Canadian Muslim voter turnout. In the ridings that The Canadian-Muslim Vote targeted, the voter turnout amongst Canadian Muslims was a groundbreaking 88%.
How to Use Islamophobia to Advance the Cause of Allah in Canada
Canada's Muslim population increased by 82% over the past decade. It increased from 579,000 in 2001 to more than 1 million in 2011. Two-thirds of Muslims live Toronto, Montréal and Vancouver.
| | | |
| --- | --- | --- |
| 1871 | 13 | – |
| 1931 | 645 | – |
| 1971 | 33,370 | 0.1% |
| 1981 | 98,160 | 0.3% |
| 1991 | 253,300 | 0.9% |
| 2001 | 579,600 | 1.8% |
| 2006 | 842,300 | 2.6% |
| 2011 | 1,053,956 | 3.2% |
Since 2011 Muslim community has made tremendous strides in bringing the blessings of Islam to Canada. Some put their number at close to 4%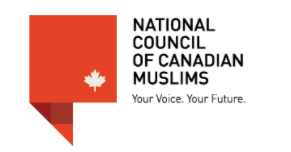 Professionally designed Workshops by Council of Canadian Muslim (NCCM), will come to your school, hospital, factory, private firm or government institution. Workshops can be tailored to effectively address the misperception of children from kindergarten up to K12. We offer a range of specially designed intensive training programs to meet the needs of any work force, office setting or government institution….
…participating in major public conferences, coalitions, and campaigns with community partners on pressing issues such as reasonable accommodation of religious practices, national security, fundamental rights, countering extremism and much more.
Imam Abdullah Hakim Quick Encourages Muslims to Vote. This is to Prevent Evil and Enjoin Good
The issue of calling to the good and forbidding evil is one of the central ideas in Islamic lifestyle. Muslims have a duty to call to the good and forbid evil based on the tradition of the prophet Muhammad PBUH. Whoever sees evil change it with your hands, with your tongue, or with your heart. But that is the lowest form of faith. Here in the Western countries and in many parts of the world in the 21st century this idea of standing for good and forbidding evil takes the form of voting especially in so-called democratic societies. Therefore, in Canada and United States and in Europe in places where Muslims find themselves as a minority it is not enough to just pray and stay to yourself and your Masjid or Muslim center. We need to be heard in society and we need to support that political party and those individuals who will benefit our society, benefit Muslims, and will be a source of unity and strength for the society. It is a duty of Muslims to stand up. It is no longer enough to be quiet so take your vote base it on morality. Base it on goodness but don't stay silent because your silence will be consent to evil in our society. Go to Canadian muslimvote.ca to register immediately.
Muslim occupy strategic location and political positions all over the world including Canada. Inshallah (praise be to Allah)
Imam Abdullah Hakim Quick is a former president of the Canadian Council of Imams
What is our situation as a community? We also find ourselves in a very critical time. We have huge numbers. We are over 26% of the Earth's population. We have young people. 60% of Muslims are young people. We have strategic positions all over the world. We have some of the richest people on earth. May Allah protect the children of the world. May Allah protect the innocent women of the Muslim community. May Allah protect, unite and strengthen the men of the Muslim community.
Conclusion
At just 4% the Muslim community is pushing forward Canada's transition to Islam at an ever increasing pace. Consider that 40 years ago there was no Muslim lobby or Muslim political influence in Canada. The forward momentum is moving not in a linear but exponential manner. At current rates it seems certain that in 40 years the Muslim population will grow to be at least 10% of the Canadian population.
Muslim Vote Changing Canada