Toronto Greek Town Shooting. June 22 2018 was the third anniversary of this event. How is the Danforth shooting contributing to Canadian society specifically Islamophobia?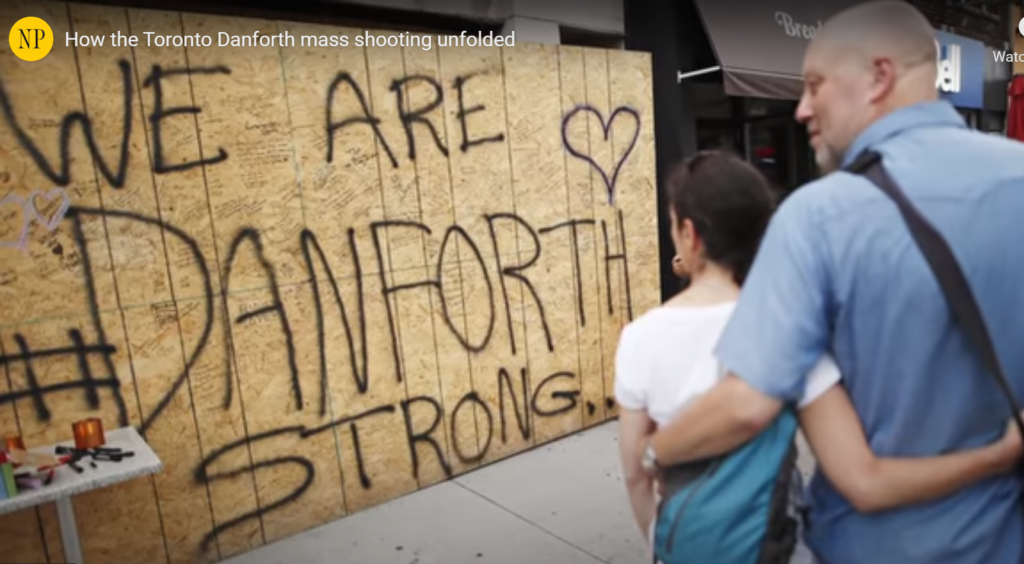 The National Telegraph posted on July 27 by John Goddard
"Police suppressed details on Danforth shooter's trip to Pakistan: entire magazine emptied into prone girl." Post
Some Canadians believe the Canadian government kept the motives of the shooter secret for political reasons.
However others refer to the fact that the mosque on 4 Thorncliff Park Drive that Faisal Hussain and his family attended, some say on a regular basis, was promoting anti Western, anti-Jewish, anti- Christian sentiments. They point to documentation that congregants in this mosque prayed "Slay them one by one"
Fear of Islam. A Toronto imam was accused of hate-preaching against Jews. But that wasn't the whole story
By Jennifer YangIdentity and Inequality Reporter Sun., Oct. 22, 2017
O Allah! Count their number; slay them one by one and spare not one of them," read the article's translation of his prayers. "O Allah! Purify Al-Aqsa mosque from the filth of the Jews! Article
CBC reported on Feb 22, 2017 that the same supplication/prayer to kill, recited at The Toronto Majid on Dundas, was not officially authorized by mosque's senior leadership.
On April 27, 2017 Islamic Relief Canada posted on its official Facebook page: "Road To Ramadan: Canada Tour with Sheikh Muhammad Al-Luhaidan"
Alhamdulillah we're on the road to Ramadan!

Islamic Relief is pleased to welcome, for the first time in Canada, renowned Qari Sheikh Dr. Mohammed Ibrahim Al-Luhaidan.

Join us on a spiritual journey across Quebec and Ontario at your local masjid — as we welcome the month of Ramadan, come out and listen to a melodic recitation of the Holy Quran that will inspire your heart.
It is reported by independent journalists that this Imam led the congregation in a prayer calling for the killing and destruction of Jews. It must be noted that the time, place or method of killing non believers, Christians or Jews was never discussed
Canadian Arabic newspaper has recently published a hadith, accounts of sayings attributed directly to Muhammad, that speaks about Muslims killing Jews as part of the final Islamic fight to establish Sharia law and justice in the entire world.
The same hadith appears in online books on the websites of Canadian Islamic organizations and was recited in sermons and lectures in mosques.
Canadian imams also recite prayers to Allah to annihilate disbelievers, enemies of Islam.
Is it reasonable to infer a connection between violence and Islam?
Islam is not monolithic. There are varied views within the Muslim community's leadership as to what is the true Islam.
JCPA documented on December of 2018 a sermon in Quebec Mosque:
"Oh Allah, turn their children into orphans and their women into widows."
The following Canadian Islamic leaders help us understand the context that shapes the core tenet of Islam in Canada, consequently influencing members of the Canadian Muslim community.
Imam Abu Bilal Ameenah Philips
Islam is essentially a moral message. To implement that message it might require weapons. Primary goal of jihad is not to spill blood or acquire people's land & property. But…
Danforth Shooting could have been his attempt to implement Islamic morality. Was Faisal inspired to kill by Bilal Philips?
Be at war with all people. Once people embrace Islam you stop fighting them… The Quran saying you must stop fighting if they embrace Islam. Hadith saying you must keep fighting them till they embrace Islam. Not leaving that gray area.
"ISIS manifesto cites Quran, aHadith and rulings of Muslim scholars to justify their position"
The single biggest cause of Islamophobia, is the terrorist in Muslim garb. Sadly, pockets within communities remains woefully in denial
To be a hero you are going to have to do things that are extremely unpopular… It is He who sent his messenger with guidance and the religion of truth to manifest it over all religions
There are people (scholars) that take verses in the Quran and their position is it is a point of theology that we (Muslims) have to hate non-Muslims
Conclusion:
Toronto Greek Town Shooting. It is irrational to dismiss the possibility that Islam is a motivating factor in this shooting.